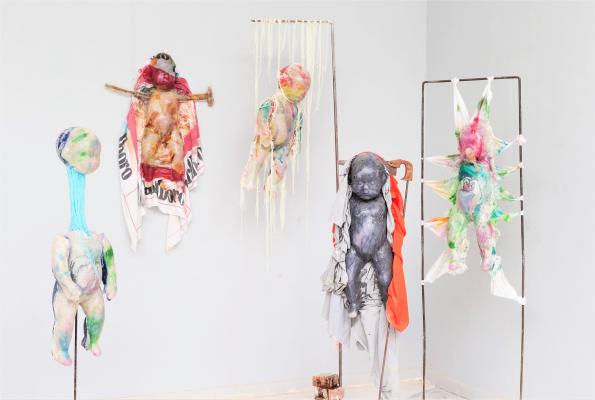 Opening 13 10 2023 18:00
Telegraph Gallery is not just a space in our main exhibition hall. It is also the platform that forms the programme for several other floors throughout the building. And this time, we have decided to replace the films in the Telegraph cinema with visual art for a few days, with a temporary exhibition of work by artist Nikola Emma Rysava, created during her residency at the Telegraph.
Nikola Emma Ryšavá (*1990) is a graduate of the Academy of Fine Arts in Prague, where she studied sculpture in the studio of Lukáš Rittstein, which she came to through studies in ceramics and wooden toy design. Ryšavá's work is characterized by surreal elements, often frightening, but also grotesque or emotional anthropomorphic figures, which she often performs on a large scale. The themes of the sculptural works are based primarily on the inner world of the artist herself, her interest in psychoanalysis, but also on literature. The desire to capture what goes on inside a person is one of her major themes, as well as intimacy and interpersonal relationships. For the sculptor herself, art-making is a form of therapy.
Nikola Emma Ryšavá has already had a number of exhibitions, for example in the industrial hall of Prague's Vnitroblock. Every year, she also participates in the VáclavART art project, which aims to stir controversy through works placed in public space, to spark discussions about the shape of Wenceslas Square, as well as its revival. However, Ryšává has presented her works not only in many exhibitions in the Czech Republic, but also abroad, for example in Italy, Portugal and Australia.
The opening hours of the exhibition are linked to the opening hours of the Telegraph Cafe:
Fri: 8:00am - 10:00pm
SAT: 9:00am - 10:00pm
NO: 9:00 - 18:00