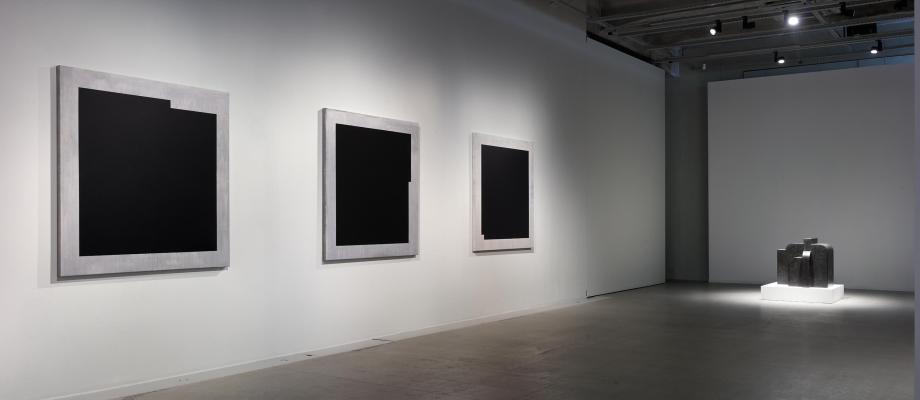 Michal Škoda's interest in "image" is deep and continual. One of the cornerstones of his work is the artistic transformation of one type of image into another. Through various techniques, he implements his lifelong themes – interest in space, architecture, and place for people – in reduced form and colour. Drawings, collages, paintings, occasional installations, photographic records, and a long-term cycle of parallel artists' books and diaries form countless records of the various images with which his life is filled.
The exhibition Topography of Solitude at the Telegraph Gallery in Olomouc presents for the very first time more than thirty canvases from Škoda's most recent work (2020–2022). The current painting chapter, however, is not entirely new; Škoda has been working with painting on different surfaces for a decade in the past, and painting on canvas is basically an extension of the possibilities of capturing images with an old-new technique. This time, however, the artist was "seduced" by the conventional format of painting on canvas and accepted its limitations, including the burden of the tradition of more than a hundred years of abstract painting. Michal Škoda is as true to his nature, vision, and imagination as ever. Abstractly, geometrically and with a specific transcendence, he reflects and visualises "relations – delineation – positive emptiness". He creates art that rewards slower, meditative examination.
In short, we can say that Škoda's paintings have undergone a transformation from surprising colours and more personal content back to a consciously restrained style of essentially pure concentrated geometry, in black and white and shades of grey, as simplified as possible, but not deadened or emptied in terms of content and effect. Empiricism is transformed and reduced to the abstract form of geometric impression, through which the artist shares the pleasure of precision, order, and harmony. Essential simplicity and fundamental beauty can be central themes.
Curated by Silvia L. Čúzyová